By Stephen Tweed
One question we are asked most frequently by leaders in home care is … "How many home care companies are there, anyway?"
The short answer is, "We don't know."
The reason is that there are only 29 states that require licensure of home care companies, and one state that requires registration. So, there are 20 states that have no licensure and no regulation of home care. We have no idea how many home care companies operate in those states.
At Leading Home Care … a Tweed Jeffries company, we have been exploring this question for more than a decade, and we have conducted several studies to determine the number of agencies providing in-home personal care.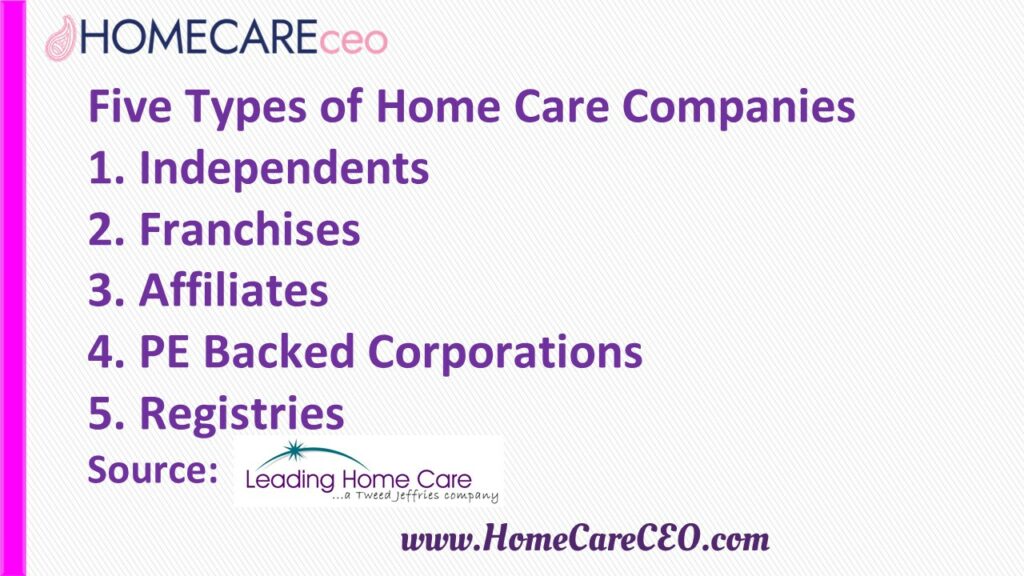 There are Five Categories of Home Care Companies
One result of our research is that we have identified five specific categories of home care companies.
1. Independents – privately owned single location or multi-location companies.
2. Franchises – there are 55 companies selling non-medical home care franchises, with 7,668 franchise units.
3. Affiliates – home care companies affiliated with Medicare Certified Home Health Agencies Hospices, senior living communities, hospital systems, or other health care related businesses
4. Private Equity Backed Corporations – A number of private equity firms have entered the home care industry acquiring software companies, franchisors, and now independent agencies.
5. Registries – companies that connect independent caregivers with clients who need assistance, but do not employ the caregivers.
What We Know About the Five Categories of Companies
While there is much more we would like to know about the five types of home care companies, here are a few highlights of what we have learned from our research:
Independents
This is the largest category of companies and based on our study of state licensure records,
we believe there are 13,000 independent home care companies.
The median sized home care company in 2022 generated $1,717,048 in annual revenue. We know that in 2021, the average home care franchise in the 15 largest franchise systems generated $1,213,327 in annual revenue. That would suggest that the median sized independent agency probably generates around $1.9 million in annual revenue.
Independent agencies in the Top 10% of the industry generate about $3.7 million in annual revenue, and independents at the 95th percentile had an average annual revenue of $11.5 million.
Franchises
In 2023, Leading Home Care updated our study of home care franchise companies. Here is what we know:
The top 20 home care companies have 100 or more franchise units.
Twelve of the top 15 franchise companies are owned by Private Equity firms, Investment firms, or major US Corporations
The top 15 franchise organizations generated $7.3 billion in total revenue.
Affiliated Home Care Companies
Home care as we know it today began in the early 1970's as Private Duty Home Care by a number of not-for-profit home health agencies. "Private Duty" is a term from nursing.
There were 11,353 Medicare Certified Home Health Agencies in 2021. There were 5,058 Hospices in 2020.
Based on our analysis of home health, hospice, and senior living, we are estimating there are 5,000 home care companies that are affiliated with another health care organization.
Private Equity Based Corporations
About a decade ago, Private Equity firms discovered the home care sector as a great place to make investments. Many of these firms have made a significant commitment to invest him home care and home care related businesses.
10 of the top 15 franchise organizations are owned by private equity groups.
Several of the leading home care software companies are owned by private equity groups.
Leading Home Care has identified 14 independent home care companies that have been acquired or taken investment from PE firms, and have gone on to acquire other smaller independents.
One major franchise system, Home Care Assistance, was acquired by a PE firm. They bought back many of their franchises and converted them to company owned offices. They also acquired a number of other independent companies. HCA has rebranded the company as The Key.
Registries:
The registry is commonly referred to as the "consumer directed" model of care because the consumer manages their own care.
The total cost of care to the client is frequently lower than the hourly fee charged by other home care companies.
Many registries belong to a national trade association called the Private Care Association.
As a leader in a home care company, we believe part of your role is to be aware of the other home care companies in your local marketplace. By understanding as much as you can about their various business models you will be able to differentiate your company from your competitors in the eyes of your clients, families, and referral sources.

For more facts, data, information, and best practices about home care, visit the research group and Home Care Trends Report at Leading Home Care … a Tweed Jeffries company.