By Stephen Tweed
With a record-breaking attendance of 675 people, The Home Care Association of America kicked off the
2023 National Home Care Conference on Monday, October 23, 2023 at the Hilton Hotel in Chicago, IL. It
is exciting to be here with so many enthusiastic home care leaders, and with so many amazing speakers.
This year's attendance, and the lineup of speakers, is a who's who of thought leaders in Home Care in
America. I'm excited to be here for three reasons:
Listening and Learning. As you know, I've been a student of the home care industry for nearly
four decades, I still have so much to learn. Participating in the general sessions and many of
the breakout sessions is always the best place to learn what's going on in our industry, and to
explore the innovative ideas being put into action in our industry.
Meeting and Greeting. This is the best place to meet new people and greet long-time friends.
I've found the best way for me to do that is in the exhibit hall, and this year we have a full-house
of terrific exhibitors and sponsors. Nearly half of the attendees in the opening general session
on Monday morning said they are here for the first time.
Speaking and Seeking. This year, I am speaking on the topic of Compassionomics in Home Care:
The measurable impact of Compassion on Home Care clients, caregivers, and companies. I'm
also seeking home care leaders who want to participate in research to find ways to measure
compassion in caregivers and how to improve client outcomes and satisfaction by showing more
compassion.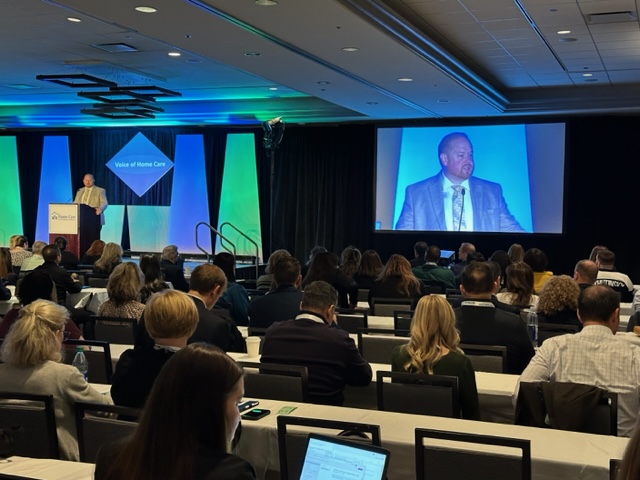 Terrific Topics for General Sessions and Breakouts
The HCAOA Conference Committee has done a wonderful job of selecting this year's keynote speakers and breakout speakers. Here are some of the topics that I found most valuable, and the speakers who presented them.
Stories that Stick
The opening keynote speech by NYT bestselling author and speaker, Kindra Hall, Sponsored by Bayada Home Health Care. Kindra brought to life the principle of communicating through stories, and helped our members see how telling their story can help
them connect with clients, families, caregivers, and referral partners.
The Path to Living Your Best Life as a Home Care Leader with EntreThrive
Presented by Founder and former CEO of Home Care Pulse, Aaron Marcum, and former CEO for Home Care Pulse Erik Madsen. Erik opened by sharing their journey in founding and growing Home Care Pulse, and then moving on to become implementers of the Entrepreneurial Operating System.
Aaron then continued the story by telling us about his new book, EntreThrive, and how these
principles can help home care leaders live a more fulfilling life.
Scaling Private Pay
In the Age of Consolidation, was a panel discussion by leaders from three of
the top home care companies in the country; Daniel Gotschalk, President of Family Tree Private
Care; Ryan Iwamoto, CEO and Co-Founder of 24 Hour Home Care, and Ari Medoff, CEO and
Founder of Arosa.
Engagement with Representation and Retention
A panel discussion back in the General Session hall led by Todd Austin, President of Home Care Pulse. Todd's panel consisted of four leaders – Emma Dickison, CEO of Home Helpers Home Care and immediate past-chair of the HCAOA Board; Qiana James, CEO of Friendly Faces Senior Care; Kunu Kaushal, CEO of Senior Solutions Home Care, and Founder of the Independent Home Care Alliance; Sara Wilson, CEO of Home Assist Health.
Compassionomics in Home Care
Presented by yours truly, Stephen Tweed. This is a look at the study of compassion and how increased compassion on the part of caregivers and office team members can have a measurable impact on the outcomes of our clients, the satisfaction of clients, the retention of caregivers, and the satisfaction of referral partners. The result is improved performance of the home care company, and increased revenue and margins.
Unlocking Success
The Power of Funnel Management. Achieving Your Operational Goals by Taking Bites of the Elephant, by our own CEO at the Home Care CEO Forum, Jensen Jones. In this session, Jensen shared some key principles of funnel management and how it can provide your agency with an optimum structure. He began by breaking down the elephant in the room – the overwhelming amount of data that a home care organization must contend with today. He demonstrated how to take a bite out of the elephant by organizing the data and identifying key metrics.
Pink Goldfish
Defy Normal and Exploit Imperfection, the closing general session by Dave Rendall. In this creative session, David discussed how home care companies need to stand out in a crowded marketplace, and how true differentiation is increasingly rare. He explained his examination of over 200 case studies, presenting an unconventional eight-part framework for achieving competitive separation by embracing flaws instead of fixing them.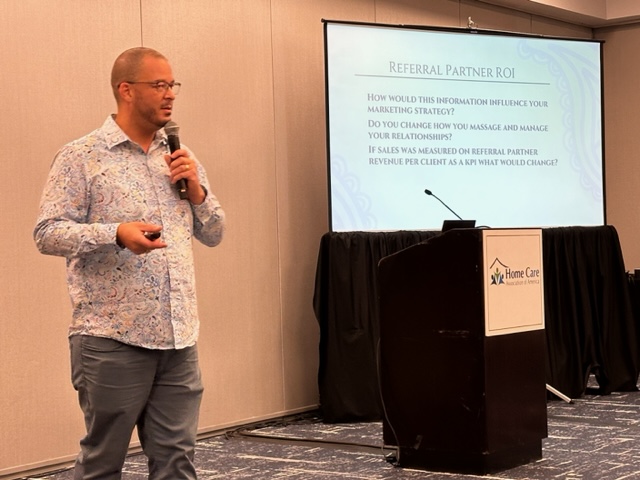 There with some other terrific breakout sessions presented by friends of the Home Care CEO Forum that
I could not attend:
*The Latest Legal Developments Impacting Home Care – Angelo Spinola, Polsinelli
*You're being sued! Now What, by Bob King, Legally Nanny
The Home Care CEO Forum has a Powerful Presence at HCAOA
HCAOA is a Resource Partner of Home Care CEO and we actively endorse and promote the
association to our members and prospective members.
As CEO of Leading Home Care, an Founder of the Home Care CEO Forum, I have been actively
involved in HCAOA since presenting the opening keynote speech at the very first convention in
2004 in Kansas City. 75 home care leaders came together to launch this amazing
organization where I have spoken at least 15 times over the 20 years of this convention.
Jensen Jones is speaking at HCAOA for the second time this year, and he's become an avid
supporter of the association as well.
We have 25 home care company leaders here who are members of one of our Home Care CEO
Mastermind Groups.
All of the members of our Top 5% Mastermind Group are here for the convention. We'll be holding our semiannual in-person mastermind meeting for two days.
Our Resource Partner, AxisCare is the Premier Sponsor of this year's National Home Care
Conference, and CEO Todd Allen introduced the and recognized HCAOA Chairman of the Board
Jeff Wiberg.
Other Resource Partners – CareWork – Rachel Gartner, Connect Forward Training – Sarah
Barker, and Mertz-Taggart – Cory Mertz, are exhibitors at the conference.
Eight of the sixteen members of the HCAOA Board of Directors are leaders of independent
home care companies, and eight are leaders of home care franchise organizations. Of the eight
independent agency leaders, five are current or former members of a Home Care CEO
Mastermind Group; Jeff Wiberg, Chair of the Board and CEO of Family Resource Home Care;
Aaron Stapleton, Board Secretary and CEO of Trinity in Home Care; Andrea Cohen, Founder of
Houseworks; Kunu Kaushal, CEO of Senior Solutions Home Care; and Sandi McCann, Founder of
Home Care of the Rockies and now Family Tree Private Care.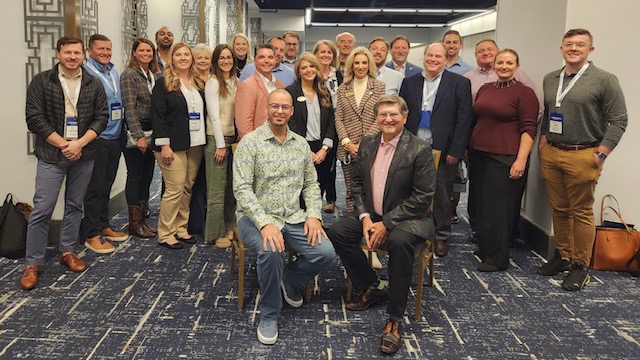 Thought Leaders in Home Care are also HCAOA Leaders and Home Care CEO Mastermind Members
If you are the owner or CEO of a home care company, and you would like to be more involved and
engaged in the home care industry as a thought leader and influencer, there are two things you can do:
Volunteer for a leadership role in HCAOA, and join a Home Care CEO Mastermind Group. These two
roles are closely connected. Over the past four decades of working with home care companies and leaders that want to grow and get ready for the future, I've learned that leaders of top tier home care companies are also leaders in our national and state home care associations.
Get Involved!
Join us in Seattle for HCAOA National Home Care Conference in 2024
The 2024 HCAOA National Home Care Conference will be held on Monday, October 28 and Tuesday, October 29 at the Hyatt Regency Bellevue Hotel in Bellevue, Washington. This is THE national conference for home care organizations offering personal care and is the centerpiece of HCAOA's ongoing commitment to help agencies grow and enhance their care to meet the growing needs of older Americans and individuals with disabilities.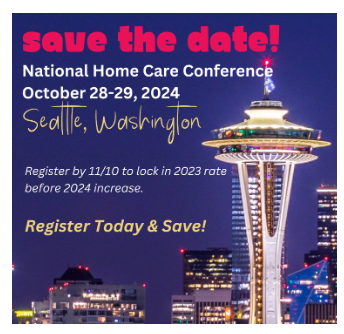 Volunteer for HCAOA!