By Stephen Tweed
This past October, my wife and business partner, Elizabeth Jeffries, and I went back to Rome, Italy to celebrate her birthday. We stayed in a part of the city where we had not been before – Trastevere. It's a wonderful old neighborhood on the west side of the Tiber River, with tiny streets and alleys filled with shops, restaurants, and quaint hotels.
One evening after dinner we were walking back to our hotel and came across this sandwich board sign on the street.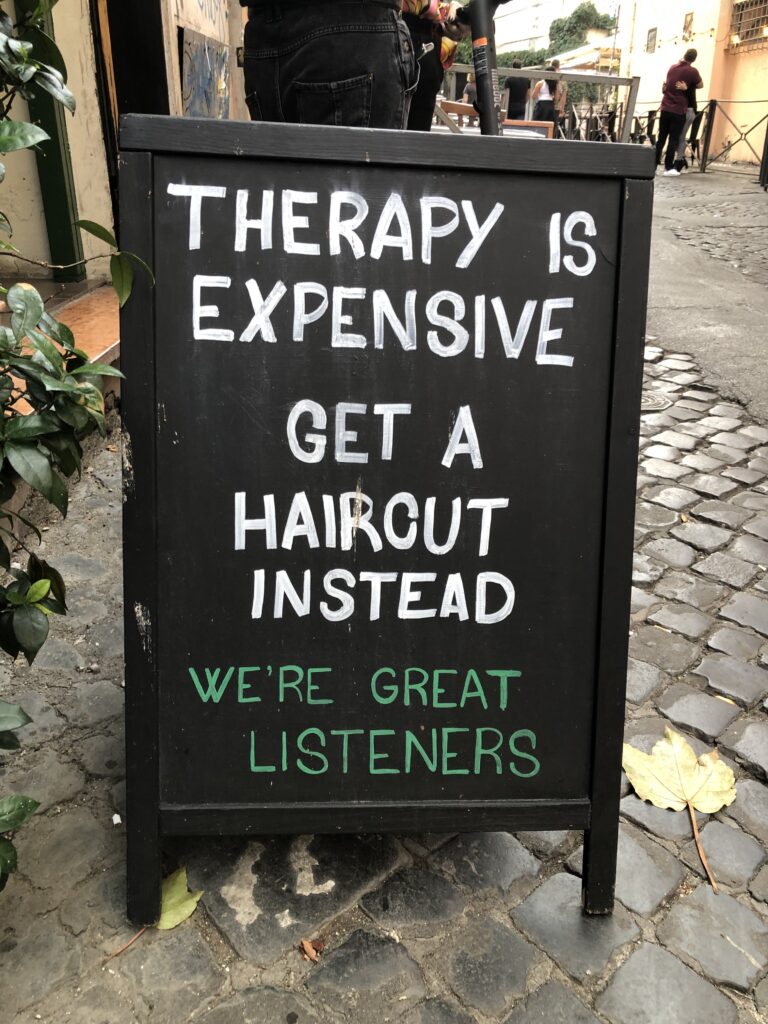 "Therapy is expensive. Get a haircut instead. We're great listeners."
We laughed out loud and joked about the importance of listening and the truth in this sign. Our conversation was made more fun because Elizabeth is a terrific listener, and she asks great questions. She's an Executive Leadership Coach, and her clients are physician leaders in academic medicine. Her clients are mostly Department Chairs in top university schools of medicine. She has an amazing ability to listen intently as they describe their leadership challenges and then asks great questions to help them get clarity. She's learned that she can't tell them what to do, but she can help them discover for themselves what to do. Almost like therapy. 😊
I came across this photo again the other day, and I was thinking about how this applies to home care leaders. The best leaders in top tier home care companies are listeners. They listen to the other members of their leadership team. They listen to their clients and referral sources. They listen to their caregivers. They ask great questions.
How are you as a listener?
Who do you need to listen to more often?
How can you take action on what you learn from listening to the other members of your leadership team?
How can you take action on what learn from listening to your clients? Referral Sources? Caregivers?
Learn by Listening to your Peers
Another opportunity to learn by listening is to be part of a Home Care CEO Mastermind Group, and learn by listening to other home care company owners from similar sized companies who do not compete with you. Consider joining a Mastermind Group.