By Stephen Tweed
One of the key elements of post-pandemic marketing and recruiting in home care is your presence in the digital world. The COVID pandemic has totally shifted how sales and marketing are done in home care. Home care companies that are growing and prospering have adopted totally new digital marketing strategies.

Home Care CEO Forum has developed a strategic partnership with Mediastead. Here is what Stephen Tweed says about Mediastead:
"On Christmas Day, 2002, my son Jason Tweed and I sat at his computer in his home in Reading PA and registered the URL for www.leadinghomecare.com. That was the beginning of Leading Home Care … a Tweed Jeffries company, and our focus on working with companies that provide in-home personal care to aging adults and the disabled. Going forward we have worked with hundreds of home care companies on strategic planning and business growth. We formed the Home Care CEO Forum, introduced the Mastermind Concept to home care, and organized the very first Home Care CEO Mastermind Group.
Jason built our first web site, crafted our weekly electronic newsletter, and built our online store. He helped us position Leading Home Care as the premier source of strategy and leadership information in the home care industry.
In 2013, Jason left Leading Home Care to form Mediastead, a digital marketing agency serving Northeast Pennsylvania, with his friend and now business partner, Michael Rapino. Jason, Michael and their team have built web sites and developed digital marketing strategies for dozens of companies in home care, hospitality, veterinary medicine, local government and not-for-profit agencies.
After 10 years of growth, Mediastead has become focused entirely on a single sector, the home care community. In the wake of the pandemic they realized these companies could benefit more than any other from their unique perspective and expertise.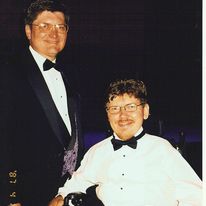 I endorse Jason, Michael, and the Mediastead team for three reasons:
Jason is my son, I want to support him and Michael as they continue to build their highly successful company. I also want to help him pay for the education for my twin grandchildren Ainsley Grace and Jason Andrew.
There is no one else I know who has more years of experience working with fast growing home care companies. Mediastead has this experience in web sites and digital marketing. What you may not know is that Jason is physically disabled, and uses the services of wheelchair on a daily basis. He understands home care from the inside out as a user and as an adviser. He understands how to position your company to stand out from the competition not only in marketing but also in recruiting.
Jason understands caregivers, what they need and what they want. He understands how to communicate with caregivers. He's had a caregiver every day for the past 40 years. Jason and Michael can help you develop a digital marketing and recruiting strategy that will appeal to the very best caregivers in your local market. This will enable you to serve more clients and grow your business. 
Several other companies focus on providing websites, SEO, and social media for home care, but no other company brings the depth of personal experience and passion for helping you reach your potential clients and caregivers like Medastead. They live and breathe home care every day. If you want to develop and implement a new website and digital marketing strategy, then I want you to know that I endorse Mediastead.