By Stephen Tweed
Fall and Spring are very exciting times at the Home Care CEO Forum. These are the times of the year when all five of our Home Care CEO Mastermind Groups come together for their in-person meetings.
In 2023, we had Mastermind Month earlier than usual, as all five of our groups met in Marco Island and Naples, Florida during three weeks in February. For Fall, all of our groups are meeting in late September through late October.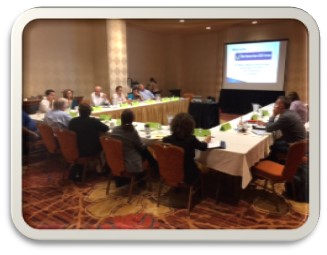 Groups meeting this fall are:
September 10th, 11th, and 12th our Top 10% Mastermind Group met in Seattle Washington. Their major agenda item was visiting another larger home care company. They visited Fedelta Home Care, based in Seattle, a member of our Top 7% Mastermind.
October 1st, 2nd, and 3rd Our Strategic Growth Mastermind Groups met in Dallas TX.  They visited with Clear Path Home Care, a member of our Top 7% Mastermind
October 8th, 9th, and 10th, our Top 7% Mastermind Group will be meeting in South Bend, IN where they will be visiting Senior1Care, a member of our Top 5% Mastermind.
October 25th & 26th, our Top 5% Mastermind Group will be meeting in Chicago immediately following the Home Care Association of America Annual Leadership Conference.
And January is another milestone for the CEO Forum as that is when we will be kicking off our first in-person meeting of the Mega Franchise Mastermind in San Antonio, TX. This is a group of the largest franchisees from a number of home care franchise systems. These mega franchise owners have been asking us for years if they could be come a member of one of our Mastermind Groups. We are finally making that happen.
We have found over the past ten years since we started the Home Care CEO Forum that these in-person meetings are a huge part of the value of the mastermind groups.  Members come together in person to share ideas, solve problems, and support one another.  They also develop long-lasting friendships that enable them to stay connected.  This becomes a community of like-minded business owners who can really identify with each member's big burning issues.  
A Decade of Powerful IN-person Mastermind Meetings.
Since our very first Home Care Mastermind in Orlando in February 0f 2013, we have hosted 62 in-person mastermind meetings in cities from Boston to San Diego, and from West Palm Beach to Seattle, and dozens of cities in between. Over 100 top tier independent home care companies have been members of a mastermind group, and over 150 different individuals have participated.
This process is surly leaving a lasting legacy and these companies continue to grow, serve more clients, and employe more caregivers.
Explore being a Mastermind Member
If you are the owner or CEO of an independent or franchise home care company in the top tier of our industry, you may want to explore the opportunity to join a Home Care Mastermind Group at the Home Care CEO Forum.
Check us out at: