By Stephen Tweed
Over the past 10 years, we have been leading Home Care CEO Mastermind Groups, where leaders in top tier companies come together to share ideas, solve problems, and support one another. We just celebrated the tenth anniversary of our Top 5% Mastermind Group which first met on February 15, 2013 in Orlando Florida.
Over all these years, we have learned seven important lessons about scaling a home care company. Here are lessons you can apply to take your home care company to the top tier of Home Care: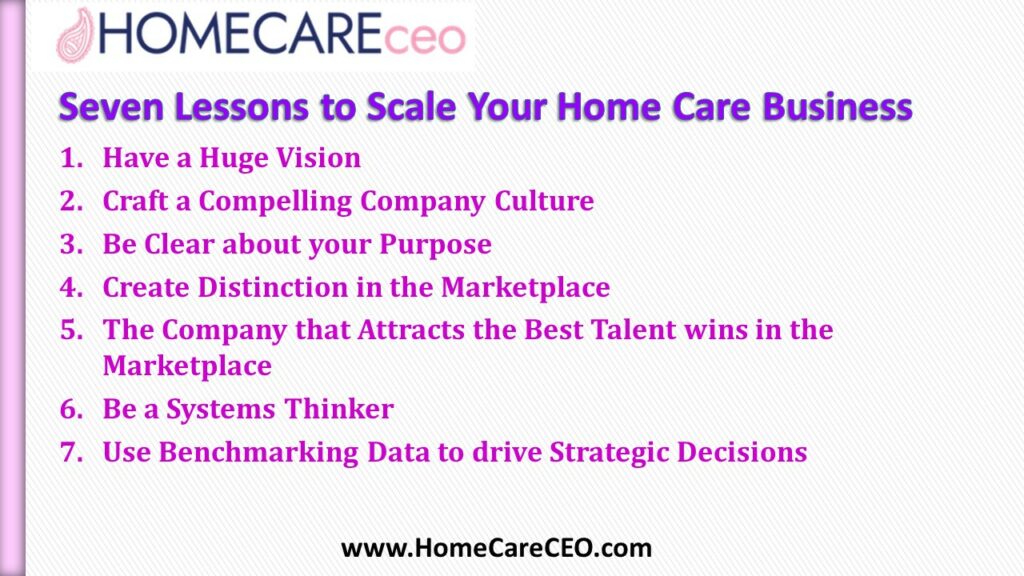 1) Have a Huge Vision – When you have a clear mental picture of the company you want to build, then you can communicate your vision with your team members and work together to achieve it. Each of our top tier CEOs has a very clear vision of the company they wanted to build when they started.
2) Craft a Compelling Company Culture – Culture is "The way we do things around here." Your company culture is influenced by the leadership style of the CEO, the core values that guide your decisions and actions, the behavior you expect, and the behavior you permit. Crafting a compelling culture is a key role for your senior leadership team.
3) Be Clear About Your Purpose – Great employees, and especially caregivers, are motivated by a meaningful mission, and want to be part of a company that is clear about its purpose. Being clear about your Four Big Why's will set you on a path to the top tier.
4) Create Distinction in the Marketplace – What makes our home care company different from the other 26,000 companies in this industry. Top tier companies have clearly defined how they create competitive advantage.
5) The Company that Attracts the Best Talent Wins in the Marketplace – Every home care company in the world is facing the caregiver recruiting and retention crisis. Yet these leading companies are able to grow by regularly recruiting new caregivers and retaining the ones they have hired. This process begins by hiring top talent for your office team, and then putting in place processes for finding and keeping caregivers.
6) Be a Systems Thinker – The leaders in home care are systems thinkers. They define the specific task in the business that are repeated frequently, and they develop people and processes to repeat those tasks consistently. At Leading Home Care, we have identified twelve specific systems that you can create to scale your business:
Sales System
Marketing System
Inquiry Handling System
Recruiting System
Employment Compliance System
Retention System
Scheduling System
Care Coordination System
Payroll System
Billing & Collection System
Metrics tracking System
Financial Reporting System
You can't build all of these systems at once, so set your priorities on your strengths and go with what you do best. Then work on the systems that are more challenging for you.
7) Use Benchmarking Data to Drive Strategic Decisions – One of the most common topics of discussion in our Mastermind meetings is about how members track metrics, measure performance, and use data to make strategic business decisions. All of our members have a clear numerical picture of how their business is performing, and our mastermind groups collect benchmarking data so they can compare results and discuss solutions.
We encourage every home care company to participate in the Home Care Pulse Benchmarking Study, and to use that data to make better decisions.
Participate in our Home Care Executive Strategy Retreat
To help you apply these seven lessons to scale our home care company, the Home Care CEO Forum is offering our Home Care Executive Strategy Retreat. This is an opportunity to join with other top tier home care company owners to take a deep dive into the seven steps of scaling y our home care business. The ESR will be offered in key locations around the country and will be available on a limited basis as a Virtual ESR.
Take a moment to find a date and location near you or look for the next online Virtual Executive Strategy Retreat. See you there.