By Stephen Tweed
One of the most important places you can put your time, talent, and treasures as a home care company
leader is in crafting your company culture.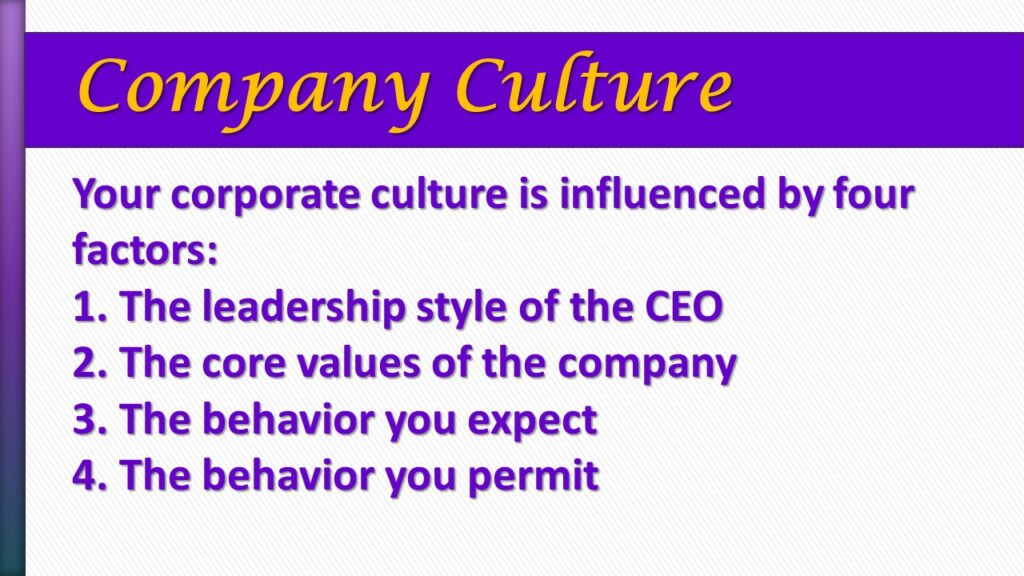 At the Home Care CEO Forum, we define "Company Culture" as "The Way We do Things Around Here."
Your Culture is influenced by four factors:
The leadership style of the CEO.
The core values that guide your decisions and actions.
The behaviors you expect.
The behavior you permit.
My wife, business partner, and co-founder of the CEO Forum, Elizabeth Jeffries, is an executive leadership coach working with CEOs in hospitals and health systems and working with physician leaders in academic medicine. Elizabeth has a mantra for the executives she coaches that relates to company culture: "The behavior you permit you promote."
Seven Steps to Crafting Your Culture
While creating the culture you want in a fast growing, profitable home care company takes a long time,
you can begin right now. Based on our research at the Home Care CEO Forum, and our work with a
number of highly successful home care companies, here are seven specific steps you can use.
Define your Core Values – Decide on three to four beliefs that guide your decisions and actions.
We've learned that you need to limit your values to no more than four, because your people can't
remember five, or six, or seven. Many of our members have defined three core beliefs.
Define the behaviors you expect – For each value, define five specific behaviors that your
people will demonstrate when they are living that value. Be specific so your team members will
understand clearly how they must behave when they are demonstrating each value. This also helps to have conversation when team members are not living out the value.
Communicate your values and expected behaviors – Communication is the key to making your
culture com alive. Find unique ways to let your team members know the core values, how you define,
each value, and the behaviors you expect when living the value. We like to begin with some physical
symbols of the culture, and then follow that up with personal communication. Some examples of
physical symbols are:

"culture cards" with the values and behaviors on laminated cards that can be attached to each
person's name badge lanyard
"pledge cards" that have a paragraph summarizing the behaviors that team members are
committed to.
A "Culture Wall" in the office with the values, behaviors, and testimonials from team members.


Train your leaders – We have learned that leaders don't necessarily have the knowledge and
skills to craft your culture automatically. You will need to provide some education and training for your company leadership team. This may include a one-time introduction to the values and behaviors, and what is expected of leaders in creating your culture. Then you can follow that up by building a discussion of your values and behaviors into each leadership meeting. The more you talk about the culture, the more likely your leaders are to live it.
Engage your Caregivers – Perhaps the most difficult element of crafting your culture will be engaging your caregivers. This is an important process that won't happen overnight. It begins with
sharing the values and expected behaviors visually and verbally. Handing out "Culture Cards" or "Pledge Cards", and having conversations with each individual. Using emails, text messages, and voice mail to remind each caregiver of the values and behaviors. Using a "Culture Fit Interview" in your hiring and selection process. Using the values and behaviors when having conversation with caregivers about their performance.
We've seen some amazing examples of how home care companies have engaged their caregivers
around the company culture, and the positive impact this has had on recruiting, selection, on-boarding, and retention. This is where your time and effort In crafting the culture will pay off in measurable terms.
Promote Your Culture – Communicating your culture is not a one-and-done process. To truly
craft the culture of your company, you will need to continually promote the culture through all of the forms of communication you use. You'll want it to be reflected in your web site, your Facebook page, your newsletters to caregivers and clients, and in any other forms of communication you are using.
Reinforce Your Culture – We have a saying: "What gets measure gets managed, what gets
rewarded gets repeated." To really engrain your culture in the minds and hearts of your team, you need to regularly and continuously reinforce the culture. One important way is through recognition and rewards. Find ways to recognize team members, and especially caregivers for living the values and behaviors of your company culture.

Share Your Culture with your Peers
One of the ways home care leaders can fine tune their company culture is by discussing it with peers.
When you can have in-depth conversations with other leaders of home care companies who are similar
to yours, and who do not compete, you will experience amazing clarity about your leadership style, your
values, and the behaviors to expect.
You can have those in-depth conversations with you are a member of a Home Care CEO Mastermind
Group. If you are an independent home care company generating $1.5 million or more in annual
revenue, there is a spot for you in a home care mastermind group.