By Stephen Tweed
---
We all know that the biggest burning issue for most home care companies is caregiver recruiting and
retention. For the past decade, we have been working together at the Home Care CEO Forum to identify
best practices in recruiting and retention, and to do research to uncover new solutions to this long-time
problem.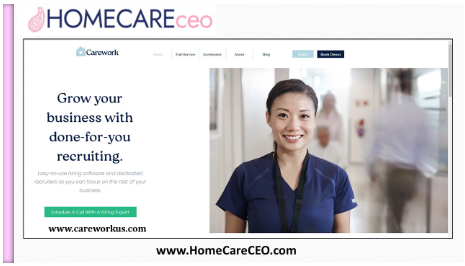 About two years ago, we came across a new company in the home care market space that can help you effectively recruit new caregivers. We were fortunate to meet the owner and founder, Rachel Gartner, and get to know her and her company. After looking at her approach to recruiting, and the data to prove that what she does really works, we invited Rachel and Carework to become our newest Resource Partner at the Home Care CEO Forum.
Here is what Stephen Tweed, Founder of the Home Care CEO forum says about Rachel and Carework:
"I am delighted to personally recommend Rachel Gartner and her team at Carework to help you
implement a proven process for recruiting caregivers for your home care company."
There are three specific reasons that I endorse Rachel:
I have gotten to know Rachel and believe her to be a woman of integrity who really believes in what
she is doing. She is committed to helping home care companies attract and hire the very best
caregivers. She is also committed to providing meaningful employment to military spouses. As a military wife herself, Rachel has built a company that creates unique employment opportunities to other military spouses. This has proven to be a unique way of finding and keeping a reliable workforce to help you recruit new caregivers even as her company grows and your needs increase.
Rachel has put in place systems and technology to make her recruiting process highly repeatable, so
the methods that work can be easily replicated in other companies to get similar results. The use of this technology enables you to reduce your "Speed-to-Hire" which is proven to be a critical element in
attracting the best caregivers. The use of these systems and technology makes the recruiting process more efficient and more effective, so you get more high-quality caregivers at a lower cost than other methods you may have used.
Rachel has the data. The applicant tracking system used by Carework enables them to give you very
specific data about the sources of candidates, the conversion ratio of applicants to new hires, and the
retention rates over 90 days and one year. Having this data enables Carework to refine their process in your local market to increase the number of applicants and bring you candidates that meet your needs and expectations.

For over a decade, we have been working on solutions to the caregiver recruiting challenge. Finding
Carework has been such a blessing because here is a company with a proven process that can really help you attract, select, and hire the caregivers you need to meet the growing needs of your home care company. But don't take our word. Check it out yourself. Click on the link below and talk with Rachel Gartner about how Carework can help you recruit new caregivers for your business.

Also check out the other companies we endorse through our Home Care CEO Forum Resource Partner
program.