As part of the re-branding and strategic growth of the Home Care CEO Forum, we are happy to let you know that we have re-engaged our Resource Partner Program. This is a program where we develop strategic partnerships with companies that provide products and services to the home care industry, and where we can publicly endorse and promote these companies and their offerings.

Our newest Resource Partner for 2023 is Mertz Taggart, one of the top Merger & Acquisition advisors focusing on home care.  Stephen Tweed, founder of the Home Care CEO Forum, has personally selected Mertz Taggart as a Resource Partner, and is personally endorsing this company and their mergers and acquisitions services.
Here is what Stephen Tweed Says about Mertz Taggart
"I am delighted to personally recommend that you consider Mertz Taggart to assist you in developing and implementing an exit strategy for your home care business. There are three specific reasons for my recommendation: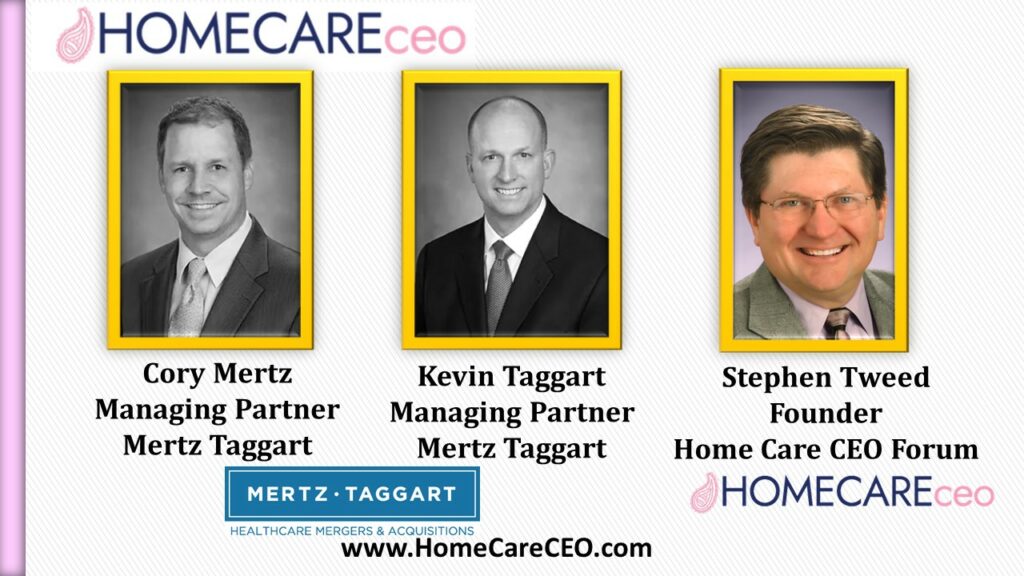 I have personally known Cory Mertz and Kevin Taggart for many years. I find them to be men of high integrity who are actively engaged in the home care industry, and supportive of what we do. For me to endorse any company, I want to have a personal relationship with the owner or CEO and feel confident that I can reach out on behalf our members or clients to solve a problem.
Mertz Taggart continues to focus on serving home care. The company specializes in serving health care organizations, and has continued to find opportunities for the sale or purchase of companies specializing in in-home personal care. They are also highly successful in representing companies in Home Health, Hospice, and Behavioral Health.
Home Care CEO Mastermind Members recommend Mertz Taggart. During a two-year period, ten of our Home Care CEO Mastermind Members sold their companies. We like to believe that they were able to increase the multiples that they received for their businesses because of what they learned as members of our mastermind groups. Cory Mertz has presented to our Mastermind Town Hall on ways to increase the value of your home care business. Several of those sellers used Mertz Taggart to represent them in the process. Also, several of our members and former members have worked with Mertz Taggart to acquire other home care companies.
For two decades, I have advised my home care mastermind members and strategic business coaching clients that … "The best time to begin working on your exit strategy is the day you start your company. The second best time is today." If you have not begun to think about how you will exit your home care business, now is the time to begin.
If you would like to know what your home care business is worth, and what you can do to increase its future sale value, contact Mertz Taggart. They have offered to prepare a free valuation of your business based on current market conditions and multiples, and work with you to develop a long-term plan to increase its value.
Don't take my word for it. Do your own due diligence. Ask questions. Talk with other users. I'm confident that you'll find this a great company to work with, and a process that will help you achieve the greatest value for the company you have spent years of hard work building.
Stephen Tweed
Founder, Home Care CEO Forum,
CEO, Leading Home Care … a Tweed Jeffries company