By Stephen Tweed
Several years ago, we conducted an industry survey on caregiver recruiting in the home care industry. While we learned much about the most effective methods for recruiting caregivers, we also learned that Selection is the Key in caregiver longevity. The HCP Home Care Benchmarking study shows that turnover of caregivers in home care has been flat at around 65% for the past six years. We also have learned that 57% of turnover happens in the first 90 days.
We have learned that the biggest reason for this short-term turnover is bad hiring. The recently hired caregivers who leave were not a good fit for the job, not a good fit for the company, or not a good fit for their first client.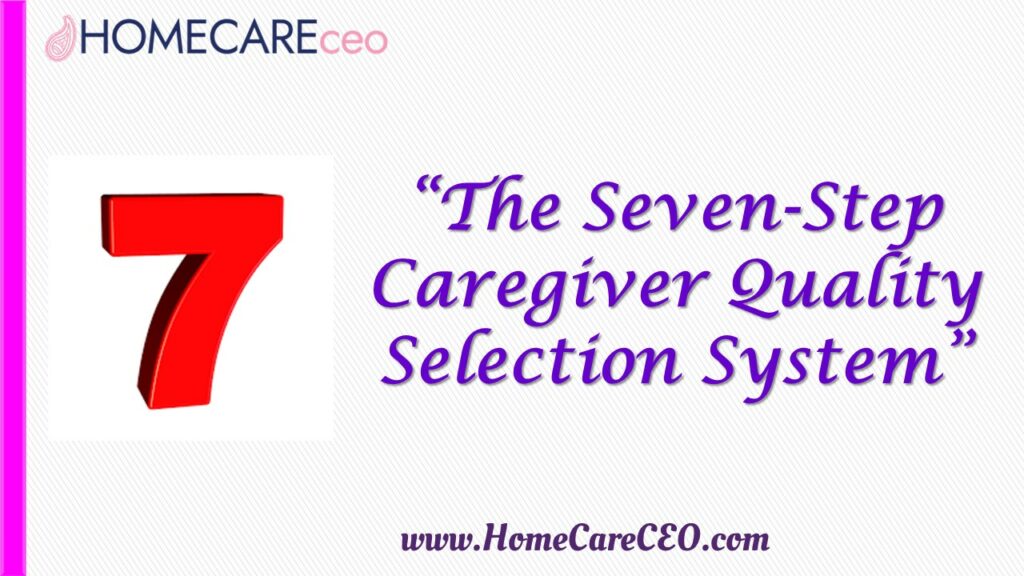 The Seven Step Caregiver Quality Selection System
As a result, we have been working on understanding and refining our seven step selection system to help home care company leaders do a better job of selecting the applicants who are the best fit for being a caregiver in your company. Here are the seven proven steps for your system.
Benchmark your Best Caregivers – the more you know about your best caregivers, the more easily you can find and select job candidates.
Define your pre-screening criteria – there are certain things an applicant must have before they can perform the job of a caregiver.  Without these attributes, they should not be hired. 
Consider a Pre-employment Behavioral Assessment –providing an online assessment tool to help home care company leaders understand the attitudes, behaviors, and cognitive ability of potential job applicants. 
Three Types of Interviews – in refining the selection system, we have identified three types of job interview; the Culture Fit interview, the Job Fit interview, and the Skills Fit interview. 
Train your interviewers for consistency in selection – in order to have consistency in your selection and hiring, you need to provide training for each person in your company who interviews job applicants.  This increases the probability that you will have consistency in our selection process. 
Work References, Personal References, Background Checks, and Drug Screens – we've learned that there are some things you can do to improve the outcomes of your reference checks, criminal background checks, and your drug screens.
Tracking Selection Success and Refining Your System – you will always want to be improving your selection system by tracking your results and using this information to refine your interview process.
We believe that if there is one thing home care company leaders can do to improve new-hire retention, it is improving their selection system, so they don't hire applicants who don't fit.
What are you doing to improve your selection system?
How has that helped improve new-hire retention?
Discuss This with your Peers. If you would like to have the opportunity to dig into this system with other owners and CEOs of home care companies your size, and who do not compete with you, consider becoming a member of a Home Care CEO Mastermind Group. These groups are open to independent home care companies that generate $1.5 million in annual revenue or more.  Visit us today!