By Stephen Tweed
Caregiver turnover in the home care industry has hovered at around 65% per year for the past six years. Can you imagine 13 out of every 20 caregivers leaving each year? That's the biggest barrier to home care companies growing their business and serving more clients and families.
We've also learned that 57% of turnover happens in the first 90 days.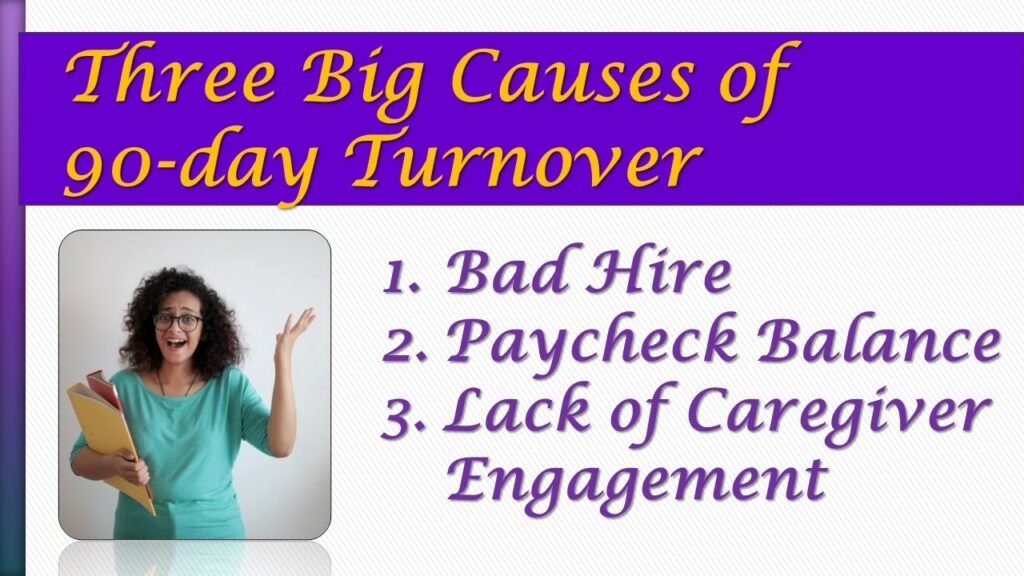 Three Big Causes of 90-day Turnover
Research at the Home Care CEO Forum and Caregiver Quality Assurance has helped us identify the three big causes of 90-day turnover:
1. Bad Hires – too many home care companies have become so desperate for caregivers that they have hired anyone who applies and can pass some very basis criteria. In most cases, these turn out to be bad hires because they are not a good fit for the job of caregiver, they are not a good fit for the company, or they are not a good fit for the client. We define a bad hire as someone who leaves within the first 90 days for reasons that are preventable.
2. Paycheck Imbalance – many caregivers in home care are what we call "Financially Fragile." They live paycheck to paycheck and any minor disruption of their income can become a short-term catastrophe. When a new hire does not get enough hours of work so that their take-home pay meets their financial obligations, they look elsewhere for more work.
3. Lack of Engagement – new caregivers are hired, provided some basic orientation, and sent out to work with a client. They are not closely connected with the company, with their supervisor, or with their scheduler. They are alone. We've learned that these short-term hires who lack engagement are most likely to call off, quit, or simply no-show no-call. You can dramatically improve your 90-day retention by building and implementing a 90-day retention plan that improves caregiver engagement.
Seven Steps to Improve Caregiver Retention
As part of our Caregiver Quality Assurance program, we identified seven steps you can take to reduce turnover and improve retention.
Measure Caregiver Turnover and Retention
Build your 90-day Retention Plan
Show Caregivers Appreciation and Recognition
Retain Economically Fragile Caregivers
Measure and Manage Employee Satisfaction
Provide Continuous Caregiver Education
Keep a Caregiver Retention Scorecard
Members of our Home Care CEO Forum who have applied these principles have been able to demonstrate a significantly measurable improvement in turnover. They have particularly focused on improving 90-day retention. The results are that these top tier companies are showing an increase in net-new caregivers, and they are able to accept more clients and increase their hours of service.
What level of turnover are you experiencing in your company?
How many new hires leave within the first 90 days?
What actions have you taken to improve retention?
Discuss Caregiver Retention with your Peers
What would it be like if you could have regular conversation with other owners of home care companies that are similar size to you, and with whom you do not compete in the local marketplace? Members of the Home Care CEO Mastermind Groups have found it invaluable to be able to have these in-depth conversations with their peers. And when they take action on the ideas discussed, they get measurable results.
If you want to grow your business in 2023, and get ready for the future, consider becoming a member of a Home Care CEO Mastermind Group through the Home Care CEO Forum.