By Stephen Tweed
---
If you are the owner or CEO of an independent home care company, chances are that one or more of
your leading competitors in your local marketplace are franchises. If so, it's probably a good idea to
learn more about your competitors.
If you are the owner or CEO of a large franchise home care company, it's probably a good idea to learn
more about the other franchisees in your local marketplace.

Research on Franchise Home Care Companies by Leading Home Care
Since 2013, our research team a Leading Home Care … a Tweed Jeffries company, has been tracking
data and information about home care franchise organizations. It is pretty clear from our data that a
significant number of the hours of in-home personal care in the US are provided by franchise home care
companies.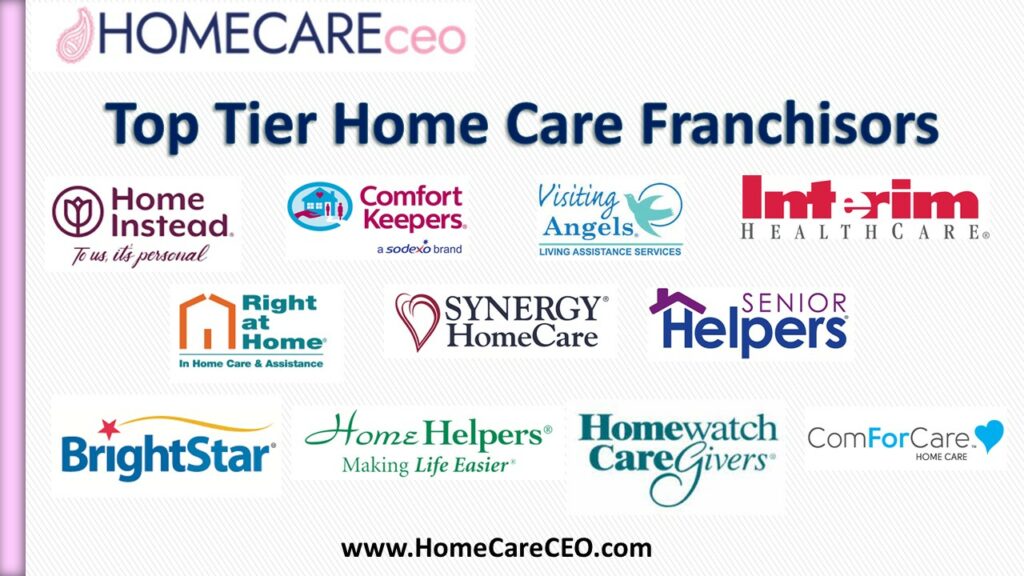 Here are some facts, data, and information about franchises that you may find interesting and useful:
In April of 2023, there were 55 companies offering home care franchises.
There were a total of 7,668 Franchise locations in the first half of 2023.
The Top 20 Franchisors have 100 or more locations.
14 of the Top 20 Franchise Organizations are owned by Private Equity Groups or other venture
capital investors.
The 25 smallest Franchise Organizations have 30 or fewer locations.
There are 12 companies that previously offered franchises but no longer offer them.
There are 9 companies that previously offered home care franchises that have gone out of
business.
From the Franchise Times 2021 Top 400 Franchises list, we learned some other interesting facts about
home care franchise organizations:
In 2021, the top 15 Home Care Franchise Organizations had 6033 locations.
The Top 15 Franchise Organizations generated $7,320,004,958 in total revenue.
The average home care franchise generated $1,213,327.52 in annual revenue.
The Franchise Organization with the largest number of locations in 2021 generated $1,942,719.93 per location.
The Franchise Organization in the Top 15 with the least number of locations generated $431,323.18 in annual revenue per location.
Home Care Mastermind Members Respect Their Franchise Competitors
Over the years, we have had significant conversations with members of our Top Tier Home Care
Mastermind Groups about their competitors in the local marketplace. Most of our members have
identified a Franchise home care company as their major competitor, and have a friendly, respectful
relationship with their major competitor. We have also worked with a significant number of individual
home care franchise owners on Strategic Business Coaching, and in our speeches and seminars.
From these conversations, we have concluded that most of the top tier home care Franchise
Organizations do a good job of recruiting and selecting new franchisees, providing initial training, and
ongoing support. These Franchise Organizations are quite successful in helping their franchisees get to
the revenue median in the industry for franchisees which is near that $1.2 million we mentioned earlier.
There are also a significant number of home care franchisees that have grown to annual revenues above
$10 million.

Top Tier Franchisees Requesting Additional Support
While most tip tier franchisees tell us they are quite happy with their relationship with the franchisor,
and the other franchisees in the system, they often reach out to us for additional support. Over the past
ten years, we have had dozens of franchisees who are the top revenue generators in their system reach
out to request membership in our Top 5% Home Care Mastermind Group. We have had to say "No"
because our mastermind members so far are all independent companies and they have elected to limit
membership to independents.
However, with the new ownership of the Home Care CEO Forum, Jensen Jones, our new CEO, has made
a strategic decision to open a new mastermind group specifically for top tier franchisees.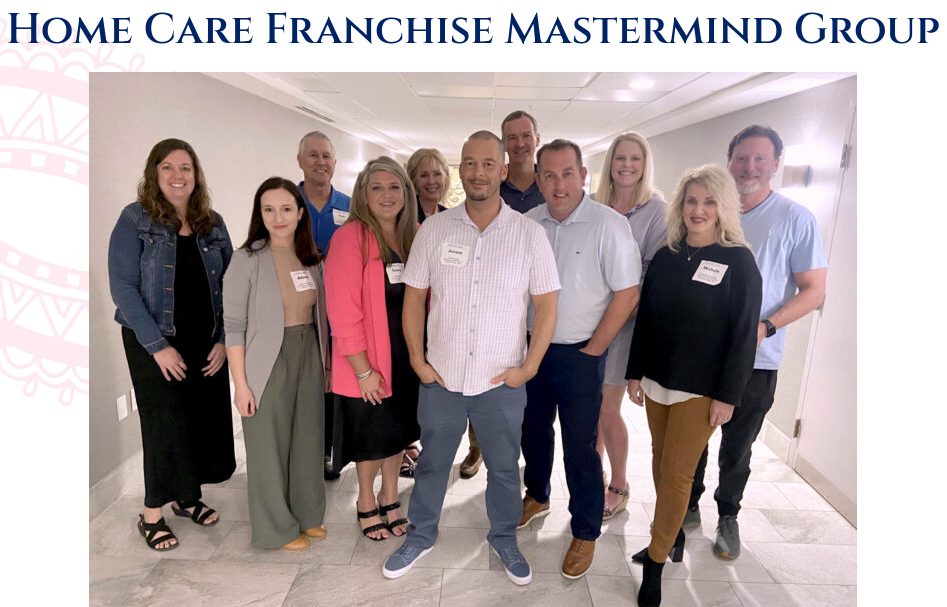 The Mega Franchise Mastermind Group.
Beginning in early 2024, the Home Care CEO Forum will kick off a brand-new mastermind group for
home care franchises from across various franchises systems. The members of this new mastermind
group will be companies at the top of their franchise system who generate $6 million or more in annual
revenue.
If you are a top tier franchisee with $6 million or more in revenue for 2023, we would invite you to
explore this new mastermind group.
For more information, visit https://www.homecareceo.com/mega-franchise-home-care-mastermind-group/
We will introduce this new group in a series of online video meetings in September, October, and
November 2023. These meetings will give prospective members an opportunity to meet other owners of
large franchise home care companies, and experience what it's like to be part of a Home Care CEO
Mastermind Group. Then we will host our initial kick-off meeting in San Antonio, TX on January 10, 11,
and 12, 2024.
To explore this unique home care franchise opportunity, Register today for our online mastermind
preview meetings. There's no obligation and we assure you that you will meet some very interesting
home care entrepreneurs.