In the heart of Las Vegas, where the dazzling lights of the strip meet the ever-evolving landscape of the healthcare industry, the 2023 Home Care National Conference by Decision Health recently unfolded. Home care professionals from around the nation gathered for a transformative experience, gaining valuable insights from a dynamic pre-conference program and being inspired by industry thought leaders like Jensen Jones, CEO of the Home Care CEO Forum, and Sarah Barker, founder of Connect Our Elders and The Senior Care Sales Solution Academy.
The Pre-Conference Program
The pre-conference program set the tone for an eventful and enriching conference, providing attendees with a deep dive into the latest trends, strategies, and technologies shaping the home care landscape. Workshops, seminars, and interactive sessions were carefully curated to address the most pressing challenges faced by home care agencies in today's rapidly changing healthcare environment.
The Home Care CEO Forum has a significant presence at this conference, particularly in the pre-conference program on Sunday. The two opening sessions were by our Resource Partner, Sarah Barker, and our CEO, Jensen Jones
Jensen Jones – Navigating Leadership in Home Care
Jensen Jones, CEO of the Home Care CEO Forum, took the stage to share his wealth of knowledge and experience in navigating the complex landscape of identifying the 'Right-Fit' clients for your agency. Jones delved into data and real-life case studies, demonstrating effective methods for identifying and targeting the 'Right-Fit' client. His session offered valuable insights into selecting ideal clients by leveraging data analytics to assess past client performance, including client lifetime value and retention rates. The ability to spot patterns and trends through data collection empowers agencies to pinpoint their ideal clients
His session focused on fostering a culture of innovation and ways to enhance value within home care organizations. Jones emphasized the importance of embracing change, fostering a collaborative mindset, and leveraging technology to enhance both patient care and organizational efficiency. Attendees left the session inspired and equipped with practical strategies to lead their agencies into a future of profitability and happy clients.
Sarah Barker – Elevating Sales Strategies in Senior Care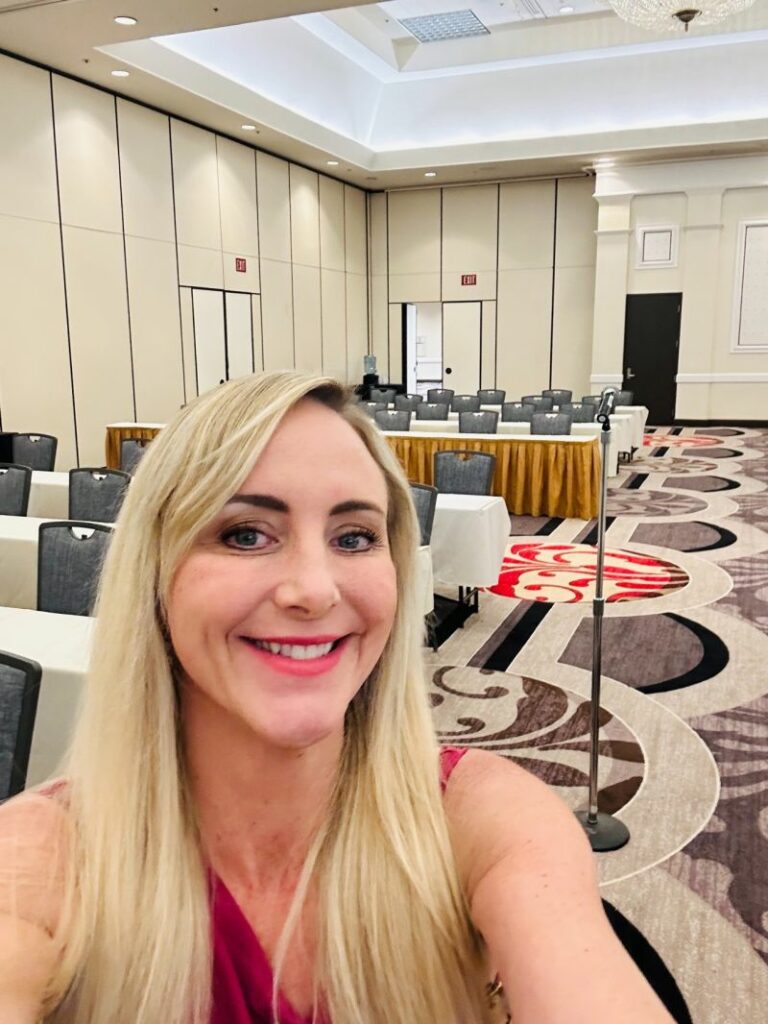 Sarah Barker, a prominent figure in the home care industry, brought her expertise to the forefront in a session dedicated to "Managing Your Marketing Team for Success." Her presentation centered around reviving your post-COVID marketing strategy with best practices based on survey feedback from over 700 home care owners. This presentation examined trends, such as declines in marketing effectiveness when quotas are not required, and ways that marketer training levels affect success. She covered how to increase private pay revenue by systematizing marketers' efforts and deploying more professional home care marketers in a way that drives growth and success for the marketers and the agency.
Networking Opportunities
Beyond the insightful sessions, the conference provided ample opportunities for networking and collaboration. Home care professionals exchanged ideas, forged new partnerships, and discussed shared challenges, creating a supportive community dedicated to advancing the field.
The buzzing exhibition hall featured the latest products and services from industry vendors, allowing attendees to explore innovative solutions and technologies firsthand. From state-of-the-art telehealth platforms to advanced home monitoring devices, the exhibition hall served as a hub of inspiration and discovery for conference participants.
Making an Impact on the Home Care Industry
The 2023 Home Care National Conference in Las Vegas was a resounding success, leaving attendees energized and equipped with the tools and insights needed to navigate the future of home care. The pre-conference program, with its focus on innovation and collaboration, set the stage for a transformative experience.
Jensen Jones and Sarah Barker, through their engaging and informative sessions, left an indelible mark on attendees, empowering them to lead with purpose, embrace technological advancements, and elevate their sales strategies. As home care agencies continue to adapt to an ever-evolving healthcare landscape, the lessons learned at this conference will undoubtedly shape the future of the industry, ensuring that home care remains at the forefront of patient-centric, innovative healthcare delivery.
Learn More from Industry Thought Leaders at the Home Care CEO Forum
If you are a student of the Home Care industry, and you want to gather more insights from engaging wit other home care industry thought leaders, consider becoming a member of the Home Care CEO Forum. (https://www.homecareceo.com/) This is the place where owners and CEOs of home care companies in the Top 10% of the industry gather to share ideas, solve problems, and support one another.
Take a Look