By Stephen Tweed
---
Some Facts And Data About Home Care Aides That Help Us Understand The Caregiver Recruiting And Retention Crisis
A recent research report by PHI, the not-for-profit organization that is working to transform eldercare
and disability services by promoting quality care through quality jobs. We have had regular
communication with PHI over the past ten years or so, and regularly receive their research reports.
The most recent report, Director Care Workers in the US: Key Facts 2023 gives an excellent summary of
the known data about all direct care workers in homes and facilities. Of course, we are most
interested in the data about caregivers in the home.
Some Key Data points:
There are nearly 2.8 million Personal Care Aides and Home Health Aides supporting elder and disabled individuals in their homes.
The number of home care workers has increased from 1,184,730 in 2012 to 2,776,500 in 2022.
Wages of Home Care Workers on average have increased from $12.26 in 2012 to $14.50 in 2022.
Home Care Workers are 85% Female, 34% White, 26% Black or African American, 26% Hispanic or Latino, and 9% Asian or Pacific Islander.
68% of home care workers are US Citizens by birth, 19% are naturalized citizens, and 13% are non-citizen residents.
56% of home care workers work full time, and 44% work part time.
15% live below the poverty level, and 55% are on some form of public assistance.
Demand for home care workers is expected to grow by 924,000 between 2021 and 2031.
Source; PHI, US Bureau of Labor Statistics, US Census Bureau Community Survey
Understanding Economically Fragile Workers
In 2020, the Home Care CEO Forum put together a project called Caregiver Quality Assurance. We
conducted significant research and organized two Caregiver Quality Mastermind Groups. During that
time we conducted studies on caregiver retention, and focused on improving 90-day retention. One of
the outcomes of our study was an awareness of what we know as "The Economically Fragile Worker."
We learned that economically fragile workers are those low-paid, low-educated workers who frequently
experience financial insecurity, food insecurity, housing insecurity, and transportation insecurity. We
learned that much of the turnover of home care workers is due to some minor economic catastrophe
that gets in the way of going to work or keeping a job. We also learned that these economically fragile caregivers are often elusive, non-responsive to offers of assistance, and doing their best to make everyone think they are okay.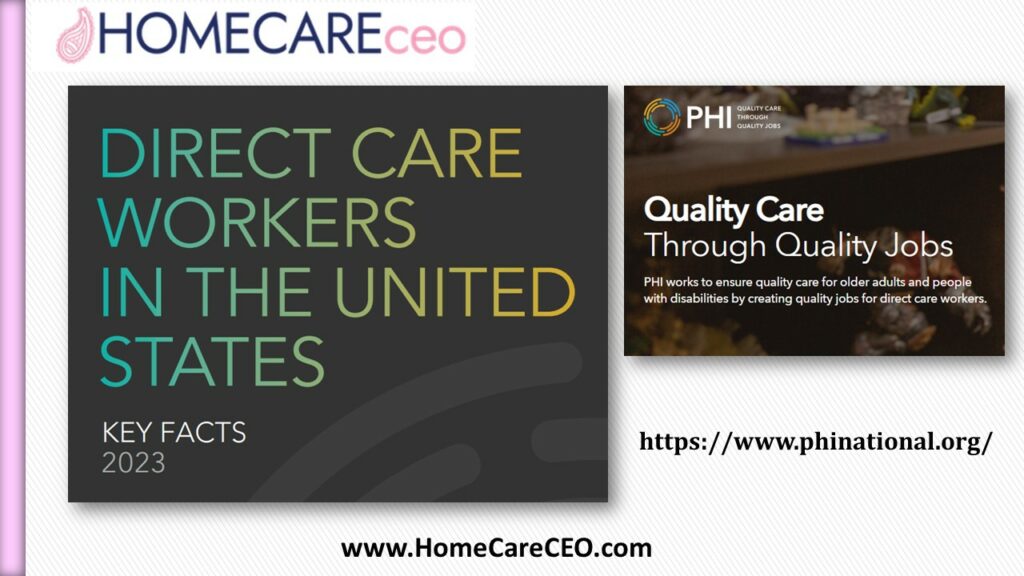 Home Care Company Programs to Overcome Economic Fragility
As a result of this research through Caregiver Quality Assurance and the Home Care CEO Forum, we
have identified some specific ways that home care companies can develop programs and services to
help these caregivers overcome economic fragility. We've had major discussions of these approaches in
our Home Care Mastermind Town Hall Meetings, and in our individual mastermind groups.
Some of the programs our members have developed include:
Setting up systems to offer Daily Pay to help caregivers avoid Payday loans at high interest rates.
Setting up short term loan programs to help caregivers deal with short term financial crises.
Providing transportation and car repair services to help caregivers get to work when they are having car trouble.
Setting up Employee Grant Funds where employees, clients, and vendors can contribute to a fund to help caregivers in financial distress.
Providing education for home care schedulers, care coordinators, and supervisors on the issue of Economic Fragility and how they can work with and support their caregivers.
Why It's Important to Know the Facts
Perhaps you have heard me repeat my favorite quote from W. Edwards Deming:
"Without the data, you are just another person with an opinion."
When we are working with caregivers who are often in this category of Economically Challenged, it helps
to understand as much as we can about their life conditions, and the big issues they are dealing with.
Because they are often elusive, we cannot easily find out what's going on unless we are observing,
listening, and asking questions.
Get More Facts and Data, and A Better Understanding of Your Caregivers by being a member of a Home Care Mastermind Group. One of the ways you can learn more about caregivers and the issues they face is through conversations with other owners of similar sized home care companies who do not compete with your company. The best way to do that is to be a member of an active Home Care Mastermind Group. For more information, or to set up a conversation, visit https://www.homecareceo.com/ and click on the Mastermind link.