By Stephen Tweed
The biggest barrier to effectively growing a home care company is the shortage of high-quality caregivers. The HCP Home Care Benchmarking Study shows that 80% of agencies listed Caregiver Shortages as one of the top three threats to their company, and 40% of respondents listed Caregiver Turnover in the top three threats.
At the Home Care CEO Forum, our members have helped us identify five specific systems to find and keep high quality caregivers. They are:
The Caregiver Quality Company Culture
The Caregiver Quality Recruiting System
The Caregiver Quality Selection System
The Caregiver Quality On-Boarding System
The Caregiver Quality Retention System
Last week, I wrote about the Caregiver Quality Company Culture. This week, we want to focus on the Caregiver Quality Recruiting System.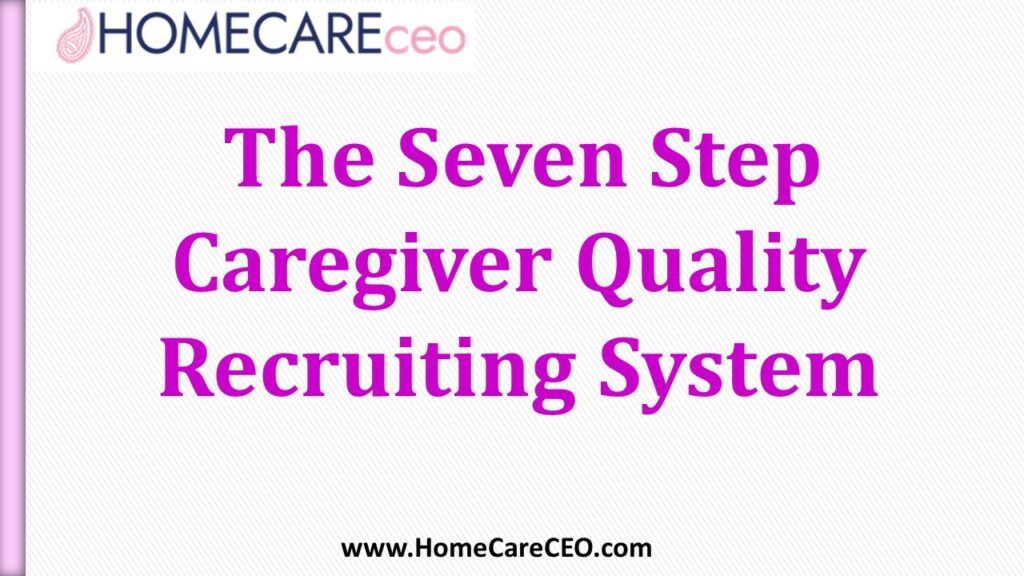 The Seven Step Caregiver Quality Recruiting System.
Research at the Home Care CEO Forum and Caregiver Quality Assurance has revealed a seven-step system that home care company leaders can apply to attract more applicants and better applicants:
Define your Best Caregiver Applicants – by studying your best caregivers, and the sources of applicants who stay a year or more, you can identify the characteristics of applicants who are most likely to be successful as a caregiver.
Develop your three-pronged Recruiting Strategy – Too many home care recruiters rely only on online job boards. Effective recruiters use a three-prongs approach which includes online, an Employee Referral System, and in-person networking with applicant referral sources in your local marketplace.
Create Rhythm and Consistency in Recruiting – Recruiting needs to have a rhythm and flow that bring repetition and consistency. Your message needs to be seen regularly by potential applicants and those who can refer applicants.
Tell Your Story – Attracting high quality applicants means painting a word picture of a great place to work, and the best way to do that is by telling your own company story.
Test and Refine your Recruiting Message – You can run the same ad over and over again and expect different results. Effective recruiters test new ads, including the headline, the body copy, and the call to action. Then they refine their ads based on the learning from these tests.
Set up and Manage your Applicant Tracking System – Automating your recruiting system is important, and that means having an applicant tracking system that enables you to improve your "Speed to Hire".
Track your data and Refine your System – Effective recruiting systems are constantly changing based on the results you get. Have key metrics to track the results of your recruiting and then refine your system using your new learning.
Home care leaders who apply a systematic approach to recruiting are shown to have much better results in attracting new caregivers, and in retaining the new hires they attract. What we have learned from our Mastermind Members is that execution is the key. Knowing about this, and having a written plan is important. Actually taking action and executing the plan is critical.
Part of execution of a recruiting system is for the agency CEO to take personal responsibility for the outcomes of this system, That means working closely with members of the office team who are actually doing the tasks to provide support, provide additional training, and to hold team members accountable.
Do You Have a High Talk to Action Ratio?
One of the things we learned in 2020 when we launched the Caregiver Quality Assurance program is that many home care company owners and CEOs have a "high talk to action ratio" when it comes to caregiver recruiting. They constantly talk about the importance of recruiting, but then they delegate the details to a recruiter who may not have the knowledge, skills, or tools to implement effectively. Then the agency leaders fail to follow up and provide accountability.
If you are serious about growing your home care company, then Caregiver Recruiting needs to be one of your top three strategic initiatives and you need to be engaged in this process every day. If you are willing to get down in the weeds and drive your recruiting system, you will be able to grow faster than your competitors because most of them won't do this. They'll moan about not having enough caregivers, but they won't do the work to conquer the crisis.
Discuss This with your Peers. If you would like to have the opportunity to dig into this system with other owners and CEOs of home care companies your size, and who do not compete with you, consider becoming a member of a Home Care CEO Mastermind Group. These groups are open to independent home care companies that generate $1.5 million in annual revenue or more. Visit us today!